We called her Belkis Baby Blue. Sometimes, when we were mean, we called her Bulkis. I was almost four when she was born, and on that 23rd day of May, we became a trio, Andrea, Belkis, and I.
Belkis was our little doll. We loved kissing her cheeks because they were so soft and chubby, even when she was a grimy ten year old. We told her she had "mushy" hands because those, too, were unbelievably soft and malleable.
Things weren't always so precious, though. We made her believe she had broken the television by turning off the cable box, then we faked ratting her out to our grandmother. Once, I pushed her off the bed as we played G.L.O.W. (Gorgeous Ladies of Wrestling, remember that show?) and she landed on her knee and it grew the size of her head.
It's what you get for being the youngest, I suppose.
She was the last to believe in Santa Claus, the last go through the rites of First Communion, the last quinceanera, the last to get married, and the last to get pregnant (though not by much!). Last and youngest, but never, ever, least.
On the 21st of March, another trio was born. Allison and Penelope were joined by Mia Andrea Lora to form their own little triumvirate of cuteness. And I can't help but fantasize what it will be like when they believe in Santa, dress in white for their Communions and quince anos, their wedding days and their own babies, however far away all of this is right now.
And I just KNOW that little Mia will be as mushy and kissable as her beautiful mother.
For Belkis, Alex, and Mia, a big MWAH from your cousin. I love you.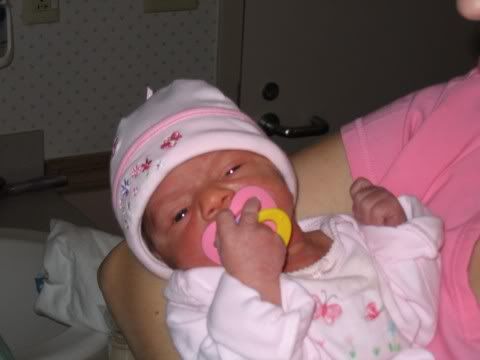 Hello, world, 'tis me, Mia!
p.s. and a very Happy 3rd Birthday to my goddaughter, Jaina!